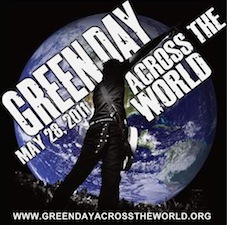 This Saturday, May 28th, the 'Green Day Across The World' event will be taking place. This is an event set up by Green Day fans to honor the band, as we work together in our respective cities around the world to do something positive for the environment.
The organiser of the event, Dawn Wilcox, is going to be holding a prize draw for everyone who gets involved. Dawn is also currently auctioning rare/signed Green Day items on eBay. Details of both are below.
Prize Draw:
Every person that participates in an environmental effort/fund raiser/donation will be entered in to a draw to win one of 75 prizes, including 2 guitars, one of which is signed by Billie Joe and the other is signed by all 3 members of Green Day. You just need to send proof of your involvement in the form of a picture or video of you participating to gdatw2011.pics.and.videos@gmail.com
eBay Auction:
The
eBay auction
has some awesome rare and signed Green Day items up for grabs. All proceeds after eBay/PayPal charges will be going to the environmental action group
NRDC
- an organisation that Green Day collaborates with.
----
It's not too late to get involved! Visit
www.greendayacrosstheworld.org
for more information or you can send an e-mail to tony@greendayauthority.com with any questions.