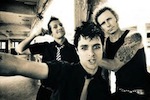 AltSounds.com has posted a really good article titled "All you need to know about Green Day" providing a brief history of the band and some insight on what they've accomplished over their 20+ year career.
"If you were unfortunate enough to be born in the 1990s, then they were your band. You grew up with them. You watched them rise, fall, then rise again so high that no one could bring them back down. No, I am not talking about Take That, I am sorry to say, but I am in fact speaking of the almightily divine Green Day. The American punk-rock stars have been the soundtrack to my upbringing, when I first came into contact at the ripe old age of 8 years old. As I've matured through adolescence, Green Day have matured with me, to become one of the biggest bands in the world, ever."
The article takes you through the band's early years up until the present day all in the eyes and viewpoint of the writer, whom is a big Green Day fan. You should definitely
read this article
.