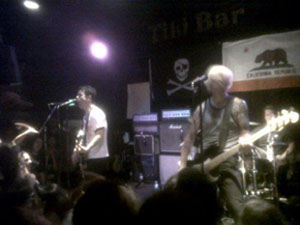 When Green Day announced that they were playing a not-so-secret benefit show on Thursday, August 11th, the fandom was ablaze with hopes and concerns about the setlist. Would they stick to the 21st Century Breakdown setup and open with a slaying arena-rock anthem; would they open with a pop-punk gem from the album that launched them into musical relevance; or would they break out a tune that has rarely been heard live, much less begun a night? What the band did start and fill the show with was beyond any fan's expectations - a show devoted entirely to new music. "To reminisce is to die," Billie said, before he launched into an evening of brand new material. After having listened to several songs from the show, I can confirm that this adventure is new and different, but in no way is it scary - in fact, I highly anticipate the new direction in which Green Day seems to be headed.
When I first awoke the morning after the show and tried to catch up with the madness that had ensued on the forum, one of the first things I noticed were Billie's clothes - they were plain. He had stripped himself of his rock star image, which struck me as intriguing. In fact, I was more than simply intrigued - I was excited, thrilled, ecstatic. Ever since I had known Green Day, they had been mega-stars in the rock world - the kings of their craft, arguably the best touring band in existence. They sold out some of the biggest arenas in the world, and filmed a live DVD at the Milton Keynes Bowl in England. They accomplished all of this with a rigorous structure - a setlist that included the classic must-haves without much room for change, crowd antics that were amazing to witness but remained the same night after night, and a costume-esque attire that set them apart from the baggy-short wearing skater punks of yesteryear.
During the second leg of the 21st Century Breakdown tour, this structure began to break down. The costumes and crowd-pleasing acts were still in place, but the music and atmosphere became more relaxed. It became less about the politics and more about the favorites. Fans requested songs and heard them played, and the band peppered in some of their personal favorites as well. In the spring of 2011, the release of Awesome As Fuck (a fan-created title) reflected this loosening of the reigns. However, the chains that bound Green Day to their arena-rock, punk-God, and Broadway-hero acts did not fully break until their impromptu show last week. For the first time since the last of their Warning shows, they stripped themselves of all of that. A setlist full of brand new songs, no more water gun shticks, and plain street-clothes to me symbolize a new beginning; a new beginning for which I think I'm ready.
Many of the songs I've heard are clearly headed away from the rock-opera style of the last two albums, but also not backward toward anything prior to American Idiot. The songs seem to have a pure rock 'n roll vibe, separate from the pop-punk angst of Dookie, the pure rage of Insomniac, or even the somewhat rootsy vibe on Warning. The style of the music seems to be completely fitting to the band Green Day has become - a band that has written two enormously successful and ambitious rock-operas but recognizes that its time to move on while maintaining a sense of growth and not retreating into old territory. Billie's remarks about the past from the show say to me that he is ready to move on from it all, but wants to take the lessons he's learned with him.
These new songs take everything Green Day has ever recorded and send it spiraling down a new path; a path that is different, but which also has familiar landmarks scattered along the way. This path does not alienate the fans or the past, but rather embraces them while breathing into them new life. American Idiot changed everything for the band, and 21st Century Breakdown completed Billie's mission; however, the mission is just that: complete. Judging by the new material displayed at The Tiki Bar, the band has recognized this. Green Day has boarded a train into uncharted territory, and I am sure as hell willing to abandon any doubts or expectations and ride along.