Once a week we want to highlight some cool Green Day items on eBay. If you guys come across anything rare, awesome, or interesting, send it over to me, andres@greendayauthority.com so we can post about it next week.
To start us off we're going to highlight some vinyl. Now, I'm going to start off with a disclaimer that I don't collect vinyl, so unfortunately I don't really know the value of these items. Those of you who collect vinyl can let me know if something isn't worth the cost.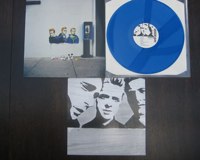 First off I came across this
Shenanigans blue vinyl
. It's a little pricey at around $65, but it does look really damn pretty. Not to mention, Shenanigans is my favorite artwork on a Green Day album.
I also saw this
clear 21 Gun vinyl
with Favorite Son as the b-side. This one is cheaper at $23. Unfortunately no badass cover, as it's just in a clear package, but since the vinyl itself is clear, it still looks pretty badass.
Lastly, this item is not really rare, but I still think it'd be pretty cool to own. This pressing of Green Day's Husker Du cover "Don't Want To Know If you Are Lonely."
Here's the ebay search
for this item since so many are listed. It's priced anywhere from $8 to $35. This vinyl was released earlier this year as Green Day's contribution to "Record Store Day".
You can check out all the
Green Day vinyl on eBay
to see if there's something else you might like. And remember, if you come across anything cool (doesn't have to be vinyl, just any Green Day item thing that's interesting), send me an email - andres@greendayauthority.com.