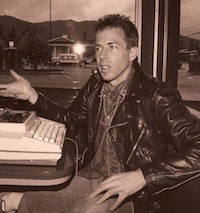 Lookout! Records
co-founder Larry Livermore writes about the first time he met 'Sweet Children' - who of course went on to become Green Day, in
part 8 of his Spy Rock Memories.
In this installment of Larry's blog, he recollects his time living and working in the Bay Area, the early days of
Lookout! Records
and how he came to meet the teenagers that would go on to make up one of the biggest bands in the world today.
Larry writes about seeing
Sweet Children
play as 16 year olds in "a cabin up in the mountains" of
Willits
on a winters night in the late 1980's (yes, there was good music being played in the 80's!):
"Once we were inside and beginning to thaw out, it seemed only logical to go ahead with the show.  The cabin had no lights, but there were plenty of candles, and while there was also no electricity, we found a generator out back to power the bands.  Sweet Children took the "stage" - a cleared-out space between the kitchen and front door - and played for the five high school kids sitting politely on the floor in front of them.

I watched from the back, only half paying attention as I changed my guitar strings, until suddenly I couldn't not pay attention.  I had seen this level of performance before, but usually only in giant arenas, delivered by bands at the peak of their careers and playing for tens of thousands.  16 year old Billie Joe exuded a casual self-confidence, only partially offset and belied by his shy, self-effacing humility.  He stopped several times to thank his minuscule audience for being there, but mostly he sang and played as if he'd been doing this all his life.  Which, I would learn later, was not so far from the truth.

Walking up to me afterward, he offhandedly asked, "What did you think?"

"I want to make a record with you guys," was all I said."
Tre Cool was playing drums with The Lookouts at the time, but soon replaced John Kiffmeyer (aka Al Sobrante) and Sweet Children were renamed Green Day.
Lookout! Records
went on to release Green Day's first 2 albums,
1,039 Smoothed Out Slappy Hours and Kerplunk
.
Larry goes on to describe his first impressions of the band that night:
"They'd been together a couple of months - this might have been their third or fourth show ever - but I'd seen and heard all I needed to.  To be honest - and I've been saying the same thing to interviewers ever since - they were like a modern, updated, punk rock version of the Beatles.  They could seriously be that big, too, I caught myself thinking.  This was crazy talk, of course, and yet at that moment it made perfect, undeniable sense."
To read more from Spy Rock Memories and other blog entries from Larry, visit
larrylivermore.com
.