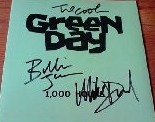 Dawn Wilcox is trying to raise $3,500 to make "Green Day Across The World" officially a non-profit organisation. To help towards raising this amount, she's put a number of rare and signed Green Day items from her collection to sell on Amazon. There's also some cool handmade stuff like you can see below, and lots more!
Check out some of the awesome stuff
on this page
. The prices range so there is some good bargains to be had as well. And it all goes to an good cause!
Thanks to Iva Hicks for sending this news