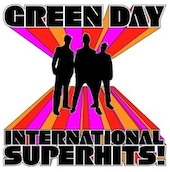 On this week...
Green Day's "International Superhits" was released on 13th November, 2001 as a compilation of all Green Day's singles from
Dookie
through to and including
Warning
. The album also includes previously unreleased songs
Maria
and
Poprocks and Coke
. As well as a CD release, there is also "International Supervideos" - a collection of all the (awesome) music videos that accompanied the Green Day singles.
At the time, some saw this release as a signal of a possible demise for Green Day, with the subsequent album releases after breakthrough album
Dookie
being more modestly received, both critically and commercially. On top of that, best hits albums are often seen as an acknowledgement by a band (or act), that they've reached their commercial peak and so they "mail in" a best hits compilation, rather than continuing to be creative and release new material. Little did we all know (and quite likely that includes Green Day) that the band were a couple of years away from smashing their way back into mainstream success again with their career defining album,
American Idiot
.
Having said that,
International Superhits/Supervideos
is (i consider them as one) a must have for any Green Day fan's music collection. In one album, it spans the career of the band to 2001 with all the classics that you would associate with Green Day at that time. I could name them all, they're all worthy of a mention, so i'll merely point you in the direction of our
music section
where we have the full track listing, along with lyrics to all the songs and links to their videos. Go geek out on International Superhits!
- greendaytone. Go on and leave your thoughts on the album in the comments! :)
Last Year:
Some pictures from Green Day's studio were released. Check
this news story
to see them.
Green Day's performance in Munich from 2009 at the Olympiastadion was shown in cinemas across Europe, giving fans another way to enjoy the band's live show. It was an interesting experience, one which i got to enjoy and comment on
here
.
Green Day officially announced the upcoming release of a live album from their recently finished
21st Century Breakdown
tour.
In 2009:
Live music videos for
Murder City
&
Last Night On Earth
were released. The performances were taken from Green Day's European Tour (1st leg) shows in Birmingham and Zurich, respectively.
Here Jimmy's
Europe Tour Recap
from 2009 as Green Day played their final shows of that particular leg of the tour in Munich, Vienna and Zurich.
Stay tuned for another "on this week..." - next week!