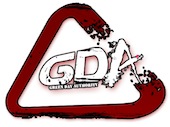 Lots of stuff going on in 'Green Day Land' over the last few weeks! Here's a summary of the stuff we've had going on...
We're doing as much as we can to help promote
Wootton Basset Rocks
who have made a cover of "Wake Me Up When September Ends" to try and raise £1million for military charities in the UK. Everyone at GDA (that's you!) can help towards this buy promoting it and/or buying the single, which will be released on iTunes this Monday!
It's been just over a week since the awesome, 'last-minute' Green Day show in Austin, TX. I was fortunate enough to make it over there, here's
my recap for GDA
.
GDA made
Kerrang!
magazine "Pop Punk's Not Dead" issue
available worldwide
to our visitors for the first time! There are just a few copies left, so head over to our
Merch
page if you want to secure yours.
As an update to all those who have already ordered, we received them on Friday and will begin shipping them this Monday. Orders within Europe should arrive within 7 working days, and all other international orders should arrive within 14 working days. If you have any queries with any of your orders with GDA, feel free to contact us at info@greendayauthority.com and we'll get back to you as soon as possible.
Back to the news, and Joshua Kobak was
announced
to play the prized role of St. Jimmy in the upcoming
American Idiot The Musical
tour.
The Green Day "Idiots"
made it to the final
of the MTV Fan Army Battle, where we lost out to the My Chemical Romance "Killjoys" after a valiant effort. Those Killjoys!
The GDA
Song Of The Week
has been "F.O.D" - check out Aska's write up about it along with an awesome live performance of the song... "We'll blast it out my ass!"
A
new editorial
, "How It All Began..."
We had a couple of cool finds from the intertubes, including
this funny video
to Green Day's cover of "I Fought The Law" and also
this interesting
'electro' remix of "Boulevard of Broken Dreams" - it certainly split opinion! There's also
this letter
, which is said to be from Billie Joe to a fan, from 1990.
More? Yes...!
There's
this cool interview
with legendary photographer Bob Gruen, who talks about what it's like to "hang out" with Green Day!
GDA was also delighted to have
this interview
with Scott J. Campbell, who will play "Tunny" in the American Idiot Musical On Tour cast. Check that out - A big thanks to 'Plaid Ducky' on our forum for making it happen.
And last, but not least, a Happy Thanksgiving weekend from everyone involved with GDA! Some
awesome pictures
made by the "awesome as cluck" GDC'ers to celebrate! (yes, i used it again!)