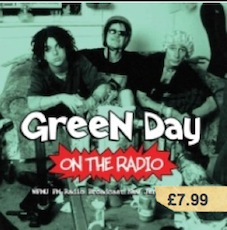 Check out this new (old) CD release coming in January! It's called "Green Day On The Radio" and is described as the "first release" of this Green Day show in New Jersey, NJ which was recorded and broadcast on WFMU FM Radio back in 1992, in support of Green Day's 2nd album
Kerplunk
.
Here's some details:
" • It was during their tour in support of Kerplunk that the band played an in-house set on May 28th at legendary New Jersey station WMFU FM, which was broadcast live. With a song list predominately made up of tracks from their first two albums and early EPs, the performance, featured in full on this CD, offers a perfect retrospective of their early career

• An intimate event without an audience, save for DJs and technicians, the band still play in a typically exhilarating manner for close to 70 minutes, during which, in addition to their own multiple compositions, covers of numbers originally by fellow local bands Operation Ivy and Fifteen are included"
Head on over to
spincds.com
to read the rest of the details. You can pre-order a copy for £7.99 (about USD $12). The CD is also available at
hmv.com
. The release date is 30th January (perhaps this is the mysterious January release that was rumored earlier in the week...?
*Update*
- this recording has been around for a while, in different guises, most commonly as "Radio Daze" - check out the comments for more information from our informed visitors!
Thanks a lot to @GDEulogy and @nnaemigreendayy for the heads up on this!