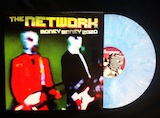 Yesterday afternoon, Adeline started a contest on Twitter giving away a copy of The Network's album
Money Money 2020
on blue vinyl.
To enter the contest, just click
this link
to be taken to Adeline's site. From there, you just have to send out a tweet and you've entered. Good luck!
If you'd just like to purchase the vinyl, you can so on
Adeline's site
for only $10! I purchased it with the t-shirt combo when it was released a few months ago and the vinyl is great!