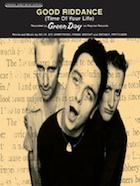 Quite a few Green Day sheet music books have been going up in the
iTunes Store
lately. Such albums as
Awesome as Fuck
,
American Idiot
, and the American Idiot Musical have been added in guitar tab, piano/chords, and vocal formats for our learning pleasure. These are digital versions of the books that have been released in music stores throughout the world over the last couple years.
I myself have a few of the physical books and they're great for learning the "official" way to play Green Day tracks. There's only so much you can learn by ear and from tabs! They're also great if you like to collect Green Day artwork as a few of them have some neat
photographs
and liner notes in them.
Also interesting to note in the book section on Green Day's artist page is that there is a new book being released in the middle of August later this year. We're not sure what it is as it is simply titled "Green Day" and has a stock photo as the cover. According to the info on iTunes, the book is 192 pages and is published by Harper Collins. iTunes is taking
pre-orders
on it for $14.99. Could it be the long rumored coffee table book Billie (reportedly) wrote a foreword for? We'll be sure to update you if there is anything new that is released.