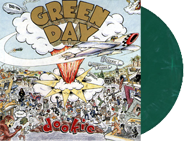 We've just received news that Hot Topic is releasing an exclusive pressing of 1994's
Dookie
on green colored vinyl. Not many other details have been released other than that the pressing would be limited to 1000 and is expected to be released today, May 22nd.
This is only the
second
time Dookie has been released on green vinyl, the first time being when the record was originally released. The original release was a limited pressing as well.
You can see a list of stores that the vinyl was sent to over on
Modern-Vinyl.com
. We'll post an update once HotTopic.com adds the vinyl to their online store.
Thanks to Mike for sending this news.