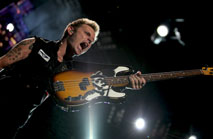 This summer, Fender.com sat down with Mike Dirnt to talk to him about a spectrum of things. They get Mike on the record about everything from
Cigarettes and Valentines
to his diner, Rudy's Can't Fail Cafe. Mike opens up about his feelings regarding American Idiot, and even brags about Green Day's supremacy over all other bands.
When talking about his own goals and ambitions in life, MIke had this to say:
"I think because I was adopted I have this sense of always needing to prove that who I am and what I do matter," says Dirnt. "I don't want to leave any stone unturned, and I guess I feel like I need to stake my claim no matter what it is I'm doing. If I was selling vacuum cleaners, you better believe I'd be the best damn vacuum cleaner seller on the planet."
You can read the whole article over on Fender.com by
clicking here
, it is really worth taking a few minutes to read.
Thanks to Jules M. for sending this news.