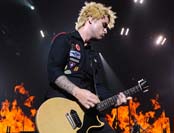 Green Day came in at number 20 out of the 30 best live bands according to MusicRadar.com's
list
"The 30 Greatest Live Acts in the World Today."
"Live, Green Day instil the kind of wild, devil-horn wielding crowd behaviour only possible in an arena full of young adults. It's all about who can start the
furthest away moshpit...
"
Other artists that made the list include Lady Gaga, Bruce Springsteen, Guns N' Roses, along with many others. You can view the full list of bands over at MusicRadar.com by
clicking here
.
Thanks to Christopher for sending this news.