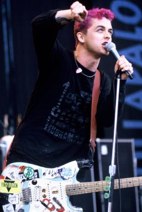 Fans
on Facebook
are banding together to ask Bad Religion, The Offspring, Green Day and Rancid to do a tour together, dubbed "The Big 4 of '90s Punk Rock" tour.
Their reasoning?
Facebook page
says,
"The goal is to recruit as many members to the you-know-what as possible in order to get all those bands to listen to what we have to say. We want old school punk back. We would love to see this touring lineup record any live concert for a DVD just like Megadeth, Metallica, Anthrax and Slayer did. Another goal is to get the four back together and save punk once again."
Noble cause, I suppose. Just to make sure everyone is aware, none of the bands have agreed to anything like this. We don't really know what Green Day's plans are over the next year or when they plan to tour again. I just decided to post this because I think it's kind of a cool idea and I know some people would be really excited to see it happen.
So while I don't think it's terribly likely to happen, you guys should join the
Facebook group
if you'd like and be part of the discussion there. There's also a discussion going on
in our forum
if you're interested.
Here's an article
from Ultimate Guitar.com
about the group, and another from
Rockaaa.com
.
Thanks to desertrose for sending this news.