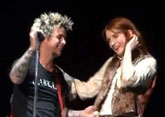 This past Friday in the middle of Green Day's set at Live 105's "Not So Silent Night" Christmas show, Billie Joe pulled Florence Welch of
Florence and The Machine
up on stage for a hug. After the show, Rolling Stone
caught up
with Florence to ask her about being on stage with Green Day.
"I got to live out my 11-year-old fantasies - I got to go on stage with Green Day. Billie Joe called my name from the stage. Dookie was the first album I ever bought. I covered the whole of Nimrod and he'd heard it. That was like the 11-year-old girl dreamed."
You can see a video of Florence on stage with Green Day on YouTube by
clicking here
. Also, if you are interested in hearing the covers that she did of Green Day's
Nimrod
, you can listen to those on YouTube under the name of
"Team Perfect"
.
Thanks to Karen. on the forum for the news.