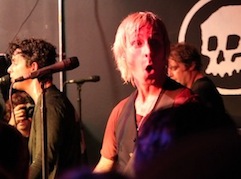 GreenDay.com
has posted some new pictures from the secret Green Day show that took place a couple of weeks ago in Oakland. The pictures are now available on
the official site
.
There are also some recaps from the lucky few members who got to attend the intimate show. Idiot Club members can click
here
to see those and the rest of the photographs.
Here's GDC'er Abbey Fox's reaction:
"Seriously, HOLY SHIT. Intimate setting, kegs flowing, new amazing setlist, older favorites, and a cool as fuck fun hot sweaty mess of a crowd made for a memorable night. Being able to see Green Day create music in a small setting last night was a gift to a fan-freak like me. Thank you Billie, Mike, Tre, Jason, Bill and the gang. Whaddya say we do this again...soon!"
Sounds good to me!
Thanks to laly for posting this news on the forum