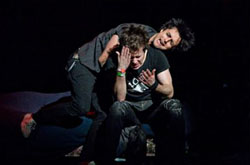 GDA's co-owner, J'net, was able to see Billie Joe perform on Broadway and has written this wonderfully detailed review of his performances in the show. This was definitely written for those of you who won't be able to see the show, or maybe for those of you who have and would like to re-live a little bit of it. She shares her reaction (and that of some other fans she was with) of his performances, and how his take on the character paints part of the story a little different. Click the link at the end of the paragraph to read the full thing.
St. Billie Times Three
by Jeanette Newton
I recently had the opportunity to visit the St. James Theatre in New York City three times in one weekend to see Billie Joe Armstrong perform the role of St. Jimmy, originated by the exceptional Tony Vincent. To avoid confusion and some awkward phrasing, I'll call the two portrayals "St. Billie" and "St. Tony." I've seen the show with Tony Vincent in the role many times (I'm not even sure how many), and I've seen Andrew Call perform it three times. However, I was unable to attend during the week when Billie Joe first took on the part. I was curious, eager, and a bit nervous to see how he would handle it.