The reviews have been rolling in for Green Day's latest album/live concert release. Along the board most write ups have been positively stating how Green Day has demonstrated how to rock an arena using a strong mix up of old and new.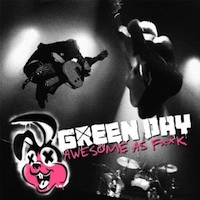 Rolling Stone's David Fricke gave Awesome as F**k three and half stars with
good things to say
:
"The title says alot about the toungue-tied delight of a great rock show, and Green Day played plenty of 'em on their last tour."
Despite being overly negative with their review (but still giving the album a three out of five),
After the Press
found some highlights in Awesome as F**k:
"Performance wise, the band as a whole put on a good show although Billie Joe's crowd anticipation quickly becomes over-bearing; there are only so many times you can hear Armstrong encouraging the crowd to go "ah ah ah". Nevertheless the bands transition to becoming a well-rounded stadium rock band comes off well."
An
Absolute Punk reviewer
gave the album 4 out of 5 stars and did a breakdown of CD vs. DVD:
"The most important aspect of a live release is the tracklisting, and in this case the CD tracklisting trumps the DVD one. The CD features songs taken from different shows across the entire world tour, and the middle of the album features golden material from Green Day's early years. We even get a solid sampling of pre-Dookie material - something that isn't just a cool nostalgic throwback, but is honestly invaluable to hear in a live setting. Even though I was lucky enough to see this tour first-hand in Miami, I didn't have the privilege of seeing "Who Wrote Holden Caulfield?," "Going to Pasalacqua," "Burnout" or "Geek Stink Breath," all of which are present on the CD version. Throwing in the often-underrated "When I Come Around" and fan favorites "J.A.R." and "She" gives you a sequence from tracks 7 to 13 that makes this release worth the purchase by itself. Of course, there is plenty of newer material, highlighted by performances of "Viva La Gloria" and "21 Guns.""