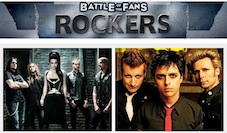 We
posted last week
about Green Day being up against Evanescence in the semi-finals of Fuse's
Battle Of The Fans
. Well, after a push from you guys, Green Day nipped in to the lead - but not for too long though. The Evanescence fans are putting up a strong fight and they've hauled themselves back in front, with about 53% of the votes.
It looks like it's going to be a tough battle to the very end, so we need another big push! Voting ends at 6pm EST tomorrow (18th October) so get voting as much as you can before then. You can register your vote (as many times as you like) by clicking
here
.
Let's get through to the final!
Thanks to WhatsernameIsMyName for sending this news.