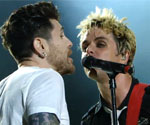 While on tour with AFI last year, on occasion, lead singer of AFI, Davey Havok would come out and sing a song with Billie Joe on stage. Our new Featured Download is a video recording of Davey Havok coming out and singing the song "Who Wrote Holden Caulfield?" with Green Day at their August 14th tour stop at the PNC Bank Arts Center.
You can download the 52mb iPod and iTunes ready MP4 file over on our
Featured Download
page now.
What do you think should be out next Featured Download? Have any ideas? Send me an email:
jimmy@greendayauthority.com
This download was recorded by RockConcertNo1Fan on YouTube.