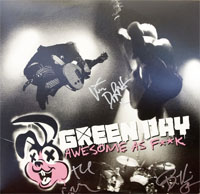 How about another chance for you guys to enter to win some awesome stuff to celebrate our 10th anniversary? This time we're looking for people to send in their best recording of a Green Day song (or Foxboro Hot Tubs / The Network) for a chance to win this really badass "Awesome As Fuck" vinyl autographed by Green Day.
You guys can find all the details on
on this page
.
Upload the mp3 (or wav/aiff) of your recording to a site like MegaUpload or MediaFire (no YouTube, we need to be able to download your mp3), then submit it via the
contest page
.
You have till July 28th to submit an entry. So break out the guitar, microphone, bass, piccolo, or whatever and record an awesome cover.
We posted
the audio of the winning entry the last time we did a contest like this (it was for "Working Class Hero").