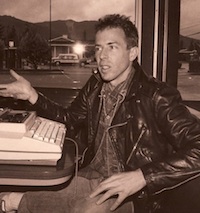 This past January, Punk Rock Pravada
did a lengthy Q and A
with Lookout! Records' founder Larry Livermore. In the interview, Livermore discusses his youth, his influences and experiences with multiple bands (as well as his own), and of course, when he first came across Green Day. Blog poster David questions Livermore about his time with two well known bands that both cut records with his label:
"To me the three bands that best represent your time with Lookout are Operation Ivy during the early years, Green Day with the two albums they released, and finally Screeching Weasel, when they released all those classic albums in the early to mid-90s. Could you talk about each of those bands and your relationships with them, from first hearing them, to being their label boss, to them leaving or disbanding?"
Then he goes on to talk about Green Day:
"It was a little more than year later when I first saw Green Day, sometime in the fall of 1988, and they were an even newer band than Op Ivy had been, but the same thing happened: I instantly asked them to make a record. This "show" was meant to be a high school party that Tre (who was still in the Lookouts at that time) had set up, but because of bad weather only five kids showed up, yet Green Day (I should say Sweet Children; they didn't change their name until March of 1989) put one of the best shows I'd ever seen. Their first 7" came out in April of 1989, and while it didn't catch on quite as fast as Operation Ivy, probably because they were too "poppy" for some of the "punks," again it was nothing but onward and upward from then on."
Green Day's name is dropped consistently throughout the interview, as well as one of their influences mentioned above, Operation Ivy. Punk band The Offspring is also discussed, in addition to AFI and Pansy Division (two bands who have been on tour with Green Day), Livermore also dishes information on his band, The Lookouts, not to mention talking at length about his record label, Lookout! Records.
You can read about all of this at and more at
Punk Rock Pravada