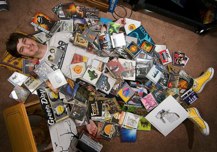 Green Day fan Andrew Jardy has a radio show called "All I Ever Wanted Was A Radio Show And I Got One" which airs tonight at midnight (Eastern) till 2am from Kent State University.
He's holding a special show tonight with just Green Day stuff to celebrate Billie Joe's 40th birthday. He posted this on
the show's Facebook page
:
"Tonight is a special night as the entire show will be dedicated to Green Day. Kayla Landis joins the show to discuss her trips to Rudy's Can't Fail Cafe and Stuart and the Ave., as well as discuss the new Green Day album and our Broadway and concert experiences. Listen to
blacksquirrelradio.com
at midnight to hear two great hours from one great band."
He also said "I will play music by Green Day, Foxboro Hot Tubs and The Network for two hours and will talk about what Green Day has meant to me, my Green Day concert experiences, favorite tracks, least favorite tracks, song meanings, etc. "
You will be able to listen to the show at midnight on
Black Squirrel Radio.com
. So check it out!
You can like his show
on Facebook
.