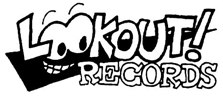 It's kind of a sad day in Green Day history
as Alterntive Press writes
that Lookout Records - the label founded by Larry Livermore and gave Green Day their first record deal in the late 80's - officially closes down.
Larry left Lookout in 1997, but the label continued releasing new material until 2006. Green Day's first two albums remained on the label for over a decade after the band signed to Reprise. That changed in 2005 when Green Day finally took 1039/Smooth and Kerplunk off the label after they failed to pay royalties for the Green Day music they were selling.
The albums were later released on Reprise and Lookout announced they would have to downsize to support the independent label without that revenue, but they had no ill-will towards Green Day. In a statement released at the time, Lookout's President Chris Applegren
agreed
that Green Day made a fair business decision.
"Despite any rumors or conjecture to the contrary, Lookout and Green Day's long relationship has always been based on trust, friendship and partnership, and those bonds remain shared between the label and the band now and into the future."
Since 2006 Lookout remained to keep back catalog of material from other bands they had, such as Ted Leo and The Pharmacists and Mr. T Experience, but released no new material since then. Today's news came from Ted Leo who
writes on his blog
"Lookout! Ist kaputt"
"I've been getting a lot of Twitter questions about why a bunch of my records have disappeared from all the digital services (Sportify, iDudes, Mandora, etc.). It's because our beloved Lookout Records, which ceased releasing new material in 2006, but carried on keeping the catalog in print until this past December, has, sadly, shuttered it's windows for good."

Larry Livermore wrote on Twitter
today
:
"Requiem for a dream? Or just time to say goodbye to something that really ended a long time ago?"
As we wrote about last September, Larry is
currently working
with Billie Joe's label, Adeline Records, on releasing a compilation titled "The Thing That Ate Larry Livermore" which will be released this year.