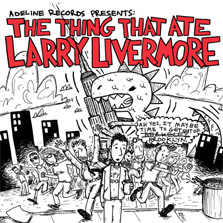 The Adeline Records
compilation
The Thing That Ate Larry Livermore
is officially available in stores and available for online purchase today.
In late summer
last year
, Billie Joe asked Lookout Records founder, Larry Livermore, to put together a compilation album of what Larry thought were some of the best unknown bands today. The name is a play on the 1988 compilation
The Thing That Ate Floyd
that was released on Lookout.
The album includes sixteen bands that recorded new songs just for this compilation. Bands include Emily's Army, The Copyrights, The Dopamines, and Mixtapes just to name a
few
. Below you can stream of one of my personal favorite songs from the compilation, "Prove Me Wrong" by The Copyrights.
You can pick up a digital copy of the compilation over on
iTunes
or
Amazon
for $9.99. For the vinyl lovers out there, you can order a physical copy from
Interpunk.com
for $17.
If you are in the New York, Philadelphia or Baltimore areas you should
check out
some of the release shows for the album that will be taking place at the end of June.