On this week...
Last Year: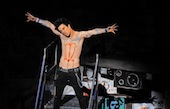 Billie Joe took Broadway by storm as he announced he would be playing the role of St. Jimmy for a week from Sept 28th to October 3rd.
The news made headlines and took Green Day fans by surprise as St.Jimmy brought the St. James' theater crowd to it's feet every night. You can look back on a couple of our stories for the reaction
here
and
here
.
2 years ago:
Green Day kicked off the first leg of their 21st Century Breakdown European tour in Lisbon, Portugal. They also stopped in Spain and France in the first of a 6 week tour.

In 2006:
Green Day and U2
performed together
during the New Orleans Saints NFL pre-game show with their collaboration of
The Saints Are Coming
, in aid of Hurricane Katrina.
In 2003:

The Network's album
Money Money 2020
was released on September 30th. After a relatively long period of inactivity by Green Day, there was a surprise release by this unknown band, whose sound bared some resemblance to that of Green Day's. Billie Joe vehemently denied claims saying they were The Network, responding:
"I just wanted to talk about the rumors and the bullshit that has been going on lately. All I gotta say is fuck The Network. These guys are totally spreading rumors. I try to do those guys a favor by bringing them to this country and putting out their record and this is how I get repaid, by talking shit about my band. Unfortunately there is a contract and I have to put out their record. The only thing I can say is fuck you Network, bring it on."
The Network were last seen supporting Green Day at the Warfield (San Francisco) in 2005, i believe. I guess they resolved their differences!