On this week...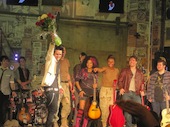 Last Year:
Billie Joe made his final appearance of his week long stint as St. Jimmy on Broadway. During an emotional encore, the Green Day frontman played a
new song
that he penned for the experience.
This wouldn't be the last we'd see of Billie Joe playing St. Jimmy though, as he hinted with this tweet:
"St Jimmy is sad.. This is my last day.. Tonight I'm gonna fuck shit up!! This is not goodbye.. This is so long.. St jimmy rules!"
2 Years Ago:
Green Day were in the 2nd week of their European Tour 1st leg for 21st Century Breakdown. The band stopped in
Madrid
&
Barcelona
in Spain,
Toulouse
&
Paris
in France, and
Cologne
,
Berlin
&
Hamburg
in Germany.

In 2004:
Big Cheese Magazine had an interview with Green Day following the release of album
American Idiot
. You can read the 7 page article in our
Magazine Scans
section.

In 2000:
Green Day released their 6th Studio Album
Warning
. The album marked a turning point in the band's career, as they experimented with a different sound and direction. The album has gone on to sell over 3 million copies.

In 1994:
Welcome To Paradise
was released as the 2nd single from Green Day's mainstream breakthrough album
Dookie
. The song, from
Kerplunk
, was re-recorded with a bigger and punchier sound, reaching number 7 in the U.S. Billboard Modern Rock Tracks.
(AI Musical picture credit:
thatgirlallison
)