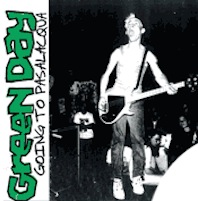 Going To Pasalacqua
My favourite part...
"I'm in for nasty weather
But I'll take whatever you can
give that comes my way"
One of the best tracks on the album for me and a pure Green Day classic, there's a live version on the album Noize Boys that if you haven't heard I'd suggest you give it a whirl because it's an absolute peach, and I could eat a peach for hours (bonus point if you get the random reference). I just love the way this song feels like it's constantly building up with such variety until the explosion of the chorus and instrumentals.
I always relate it to that feeling of when you first start to fancy/have a crush on a girl that over time can almost lead to being besotted or 'infatuated'. Anything I say just doesn't do justice to how the lyrics sum up that feeling. There's no way of knowing what the other person thinks and that's when I know I'm in for 'nasty weather'. I've always taken the plunge and put my heart and balls on the line to find out if the feeling was mutual. Despite the fact it never has been, and I've always ended up stranded in the rain rather than basking in the sun, I'd do it again and again.
They say all's fair in love and war, so if you're thinking of someone in particular I say go for it! Take the risk and who cares what the outcome is. Let's all 'throw away our past mistakes' and when it comes to 'contemplate our future...'
(all together) What the Hey!!!
P.S A big shout out to the
Kinder-Egg-Head
, Song of the Week nugget. The title of this song will always remind me of your edible head because of the Going To PasalASKA genius name.
by Carl Anastasi