On this week...
(click the year for a related link)
Last Year: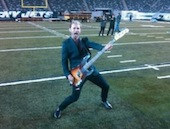 Billie Joe and American Idiot Musical director Michael Mayer were hosting "Idiot University" - a series of post-show talkbacks following performances of the musical. Their was an entertaining mix of questions, requests (for hugs mostly) and stories from the ensemble.
Green Day and members of the musical cast
performed Last Of The American Girls
at half time of the New York Jets NFL game in New Jersey. You can view photos from that performance over at our
picture vault
.
2 Years Ago:
The band performed East Jesus Nowhere at the VMA's and won 3 awards for their video for 21 Guns - Best Direction, Best Cinematography and Best Rock Video.
Tour dates
were announced
for Japan as part of Green Day's Asia leg of the 21st Century Breakdown Tour in January. Footage from the 2 shows in Tokyo would later be put out as part of the
Awesome As Fuck
Live CD/DVD.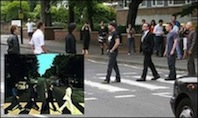 In 2006:
Green Day were recording with U2 at Abbey Road Studios in London for
The Saints Are Coming
single. Some tourists from Oakland were in the area at this time and recorded
this footage
of the 2 bands recreating the famous Beatles photograph.
In 2001: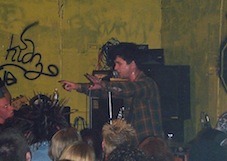 Green Day made their return to the Gilman Street stage with an impromptu performance at the Adeline Records Showcase. They took to the stage after Jason White's band
The Influents
and borrowed equipment from other bands to perform. Giiman St had to close at 10pm, so Green Day got to play just the
7 songs
.
In 1993:
Billie, Mike and Tre have a whacky interview in the famous bookmobile they used to tour with in the early days. At around the 3:25 mark (click the year to watch), they joke about having a rock opera called "Jimmy" - funny how things work out!